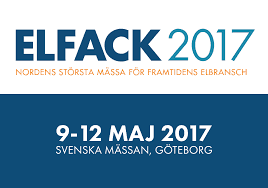 FAIR ELFACK MAY 2017
Between the 9th and the 12th May will take place the International Elfack trade Fair in Gothenburg, the second-largest city in Sweden. As taken from the website of the event: "Elfack is the Nordic region's largest meeting place where the entire electricity and power industry shows its new products and solutions". Mericon, the official Graziadio's distributor in Sweden, will be present with his stand.

Graziadio & C. means Quicker, Better, Cheaper!!!