For almost 60 years Graziadio & C. are producing innovative and competitive solutions that permits better power distribution and transport for every type of customer in different markets. Our range includes busbars from 25 to 6300 A with copper and aluminum conductors. With constant diligence we manufacture the products and analyze company processes to adapt them to technical and quality standards, established  at national and international level.
GLS 25-40-63 A
Lighting busbar system
K SERIES 800-5000 A
Power and distribution busbars
J SERIES 63-100-160 A
Low power busbars
ISOLSBARRA 630-6300 A
Power busbars
GDA 63-2500 A
Plug – in busbars
GMT 7.2-24 kV
Medium voltage busbars
GDR 100-2500 A
Plug – in busbars
MULTICONDUCTOR 50-300 A
Trolley
ISOLFLEX 630-6300 A
Flexible laminated terminals
PRODUCTOR 50-400 A
Lateral Trolley
OTHER BUSBAR
GPD – Isolsbarra – Minisol – Isoltrolley
COMPANY PROFILE
Graziadio & C. is a company with approved experience in the production of Busbar trunking systems. Graziadio & C. gives the support to its customers offering the best solutions for power distribution and transport due to the simplicity of approach as the inspiring principle of every activity. The main aim of the company is to offer the high quality busbars at the lowest possible cost using the most current knowledge and skills.
COMPANY BROCHURE
For 60 years, Graziadio & C. is successfully producing totally isolated busbars. The main company's strengths are: Product Innovation, Lean Production, Flexibility, Fast Delivery, Constant Assistance, Easy-to-Use Products and Continuous Improvements.
COMPANY BROCHURE
ADVANTAGES OF THE ALUMINIUM BUSBARS
Using busbars trunking system it is possible to meet almost all requirements for the electrical installations of the power distribution and transmission, starting from the lighting in the offices and warehouses up to transformer stations in big plants. Choosing busbars you will reduce the planning and installation costs, thanks to an immediate start up through a quick and simple assembly.
ADVANTAGES OF THE ALUMINIUM BUSBARS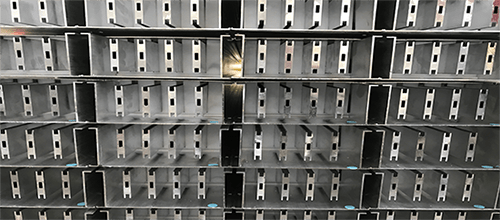 ALUMINUM VS STEEL
All Graziadio busbars are made with an aluminum housing. Aluminum has different, particular and advantageous characteristics that make it superior to other metals. The most important qualities are: the lightness, excellent conductivity, resistance to corrosion and modern design.
ANIE: TECHNICAL GUIDE BUSBARS
ANIE Energia (National Federation of Electrotechnical and Electronic Companies), in collaboration with Graziadio and other manufacturers, has published the Technical Guide on busbar trunking system, which illustrates what busbar trunking is, when it is used and the various types depending on the application.
ANIE: TECHNICAL GUIDE BUSBARS