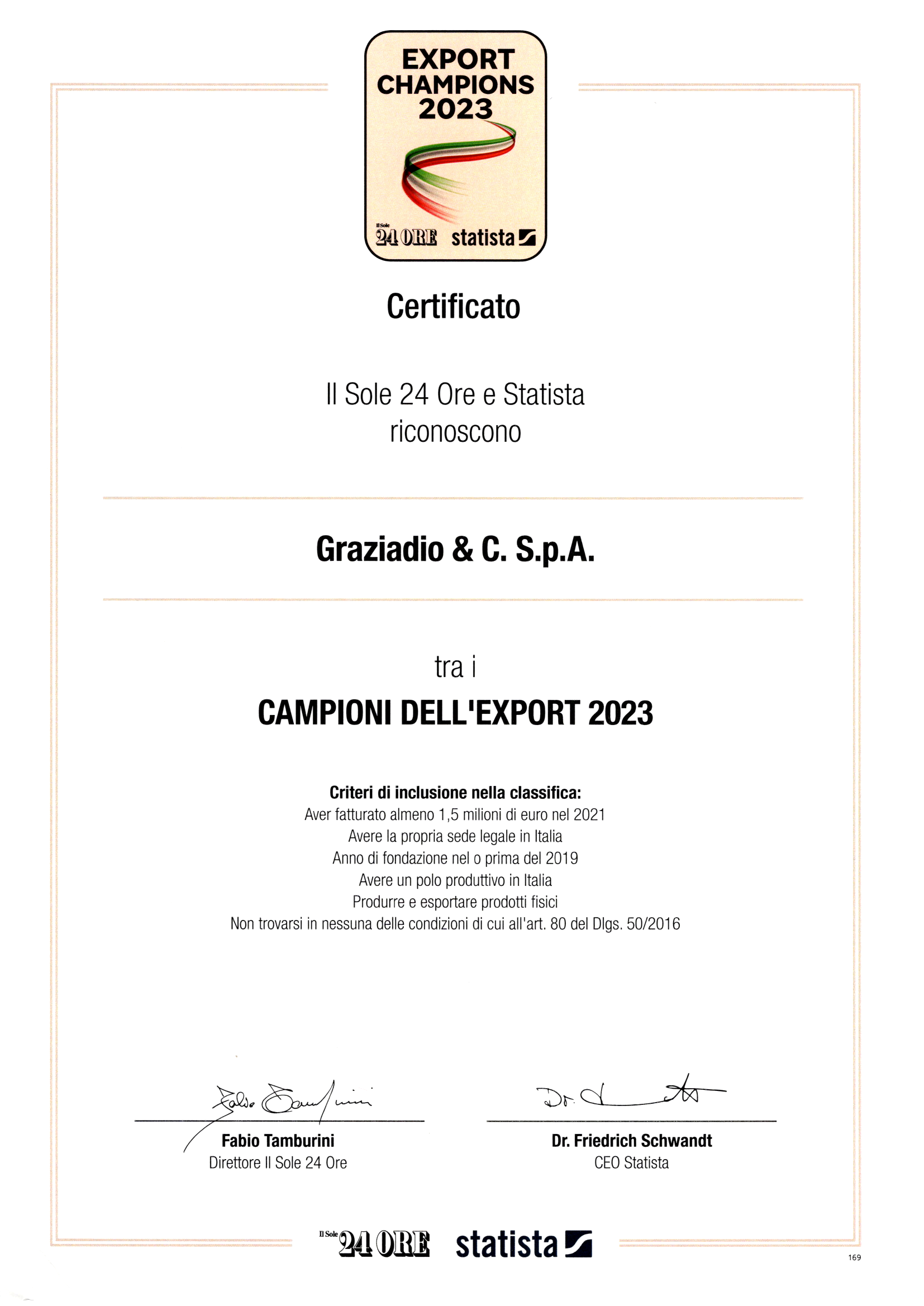 Our company proved to be a champion of Italian export in 2023.
The newspaper "Il Sole 24 ore" each year makes a ranking of the top companies that specialize in exports. It relies on "Statista," a German statistics website that shares data that it collects from various institutions. It deals mainly with the economic sphere.
The ranking of the 250 companies presented as Italian export excellences register an average export share of 68%. The sectors represented are many and varied: food, engineering, furniture, automotive and multiple others. One of the analysts responsible for compiling this list, Lisa Dei, reiterated the ability of companies to maintain high sales abroad over time; in fact, so many names are repeated from year to year.
The assessment was made on 2021 turnover and included several criteria to be included in the ranking:
– Having a turnover of at least €1.5 million in 2021
– Having its registered office in Italy
– Year of foundation in or before 2019
– Have a production hub in Italy
– Produce and export physical products
– Not being in any of the conditions set out in Article 80 of Legislative Decree 50/2016 (not to be bankrupt)
Having met all these different criteria is the minimum to be considered by "Il Sole 24 ore" and "Statista." Next comes the export analysis. The companies that managed to rank have an export percentage of at least 40 percent; Graziadio & C. SPA ranks 171st with nearly 61% of the export share, 7101 million in sales, of which 4325 million from export. With these 2021 figures and 35 employees, it represents the excellence of Made in Italy and continues to grow.
This achievement has been possible thanks to our loyal customers and the excellent quality-price busbars that are always in demand.