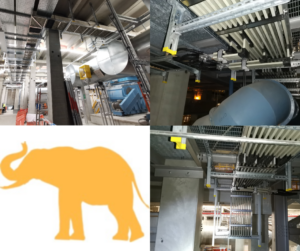 New Vetropack factory – For us at Graziadio it is always a source of pride when large brands and consolidated companies, present on the Italian and foreign markets, turn to us for our products.
On 25 October 2023, the Vetropack Group, leader in the production of glass packaging, inaugurates its new factory in Boffalora sopra Ticino, about twenty kilometers further away than the previous headquarters in Trezzano sul Naviglio.
This is an important project, as this will be the only Vetropack Group headquarters active in Italy. In order to meet the needs related to energy distribution they turned to Graziadio, and we subsequently supplied our Isolsbarra line, which proved to be the most suitable for the system.
The primary goals of the new structure, in addition to the use of cutting-edge technologies, put particular attention on sustainability and reduced environmental impact. Objectives set right from the foundations: in fact, the new construction was built using the demolition material from the old site. And our busbars prove to be optimal from this aspect too, thanks to the fact that the aluminium, of which their covering is made, can be recycled and reused over time.
But what are the other characteristics of our Isolsbarra line and why is it so efficient?
Let's start with the safety aspect. Isolsbarra offers different degrees of protection, in this case the useful ones are:
IP42, ideal for closed environments
IP66 against solids, liquids, humidity and dust
Furthermore:
its internal conductors (copper or aluminum) are individually insulated
it offers high fire resistance
the aluminum casing reduces the emission of electromagnetic fields
As regards dimensions and assembly, it has a very compact shape and is easy to install.
In short, a new, great start for the Vetropack plant in Boffalora with the Graziadio busbars which, we are sure, will not disappoint expectations. If you want to know more about our busbars and learn more about their features, we invite you to take a look at the rest of the range too!
Graziadio. Yes, we busbar.